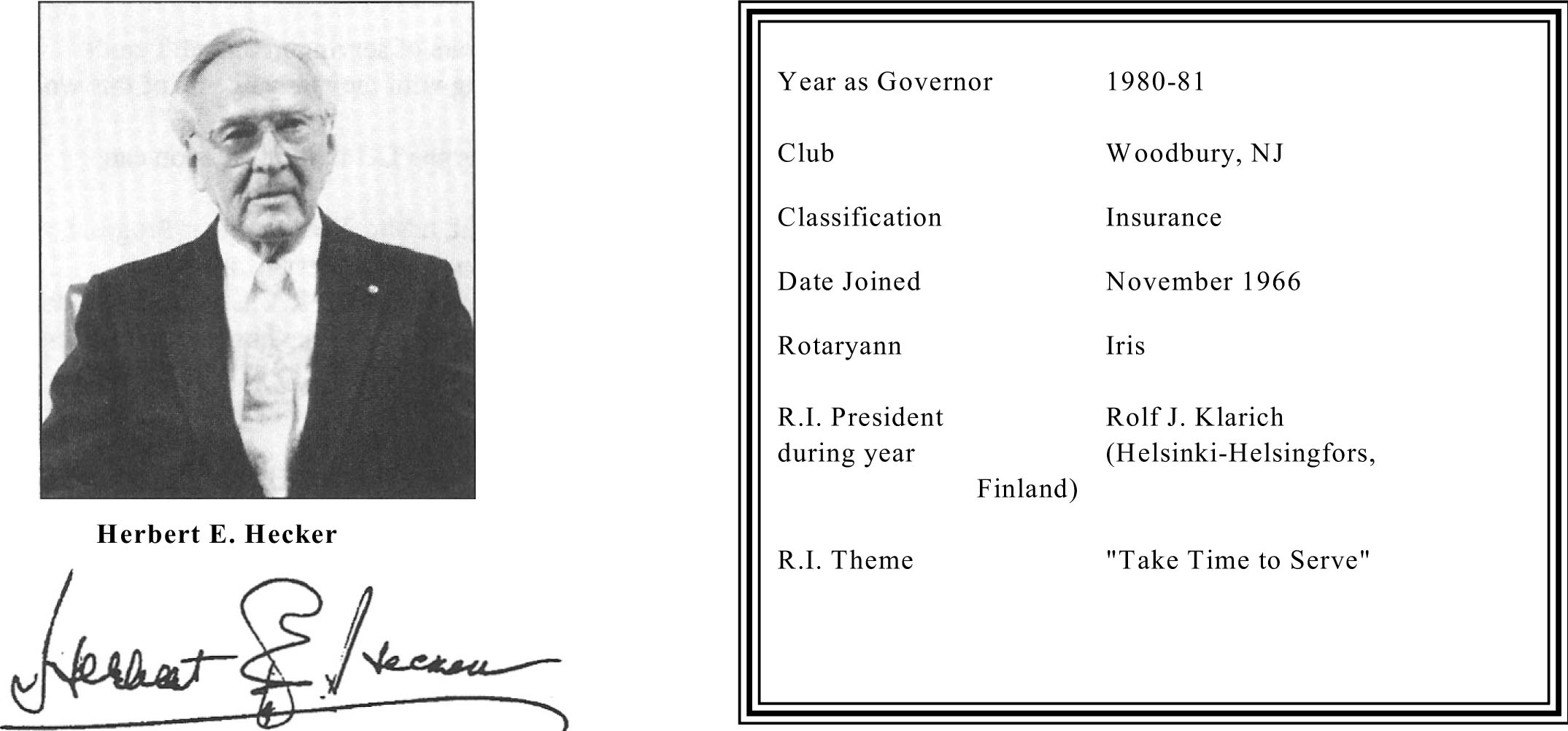 Before listing the accomplishments of my year, I want to first express my gratitude to the late Sherman Yeiter, a dedicated Woodbury Rotarian, a fine gentleman, and an outstanding long-time club secretary who convinced me I had the qualifications for District Governor.

 It was Sherm's persistence that made me decide to "throw my hat into the ring," and I was pleased when the district nominating committee confirmed his feelings by selecting me as its candidate to serve our great district as governor for the year 1980-81.

That was the year Rolf Klarich of Finland was Rotary's International President. His theme was "Take Time to Serve."

I thought that was an appropriate theme. But I added the word "together" because I believed then, and still do, that it is necessary for all Rotarians to "Take Time to Serve - Together" to fulfill our obligations to the Object of Rotary through the Four Avenues of Service.

There were many highlights in my year. The first, and among the most memorable and impressive ones, was the 1980 International Assembly I attended in Boca Raton, Fla. Here, my counterparts from throughout the world assembled for a week of intensive training to prepare us for the job ahead.
 It was the best training session I've ever attended. I left the assembly feeling very humble, but determined to do my level best to maintain the high standards of performance expected of me.
 I feel club visitations were among my most productive accomplishments. Here I had the opportunity to visit Ion-1, as well as collectively, to hear the accomplishments and listen to the problems of the officers, directors and members of each club and to suggest ways and means to bring about desired results. Much of the district-wide progress during my year resulted from an exchange of ideas. It was gratifying to see the fruits of our labor.

 Membership development and the Rotary Foundation also were first and foremost during my year. Again, I believed then and still do that with the continued increase of a "quantity of quality people," and with the right financial assistance, one can move mountains to support all the wonderful Rotary-sponsored programs of today and tomorrow.

 We enjoyed healthy growth and set a pattern for others to follow. We also earned four scholarships as a result of our participation in the Foundation, then an all-time high.

 I'm grateful to Col. Jim Davidson and Neil Garber for creating another first in our district. They combined efforts to get every district club to contribute to the Foundation. I believe this led to better results in subsequent years.

 Our long suit was Community Service because we practiced "Charity begins at home." But I reminded everyone at every opportunity we are an international organization and, as such, are expected to participate physically and financially to help those in need and less fortunate. That's part of a continued effort to make our communities, our country, and the world a better place to live and work in peace and harmony.

 The financial assistance we provided to the unfortunate Italian people who endured a devastating earthquake was a prime example of caring for others. I was especially impressed with the team spirit displayed by Bridgeton Rotarians, whose club project raised over $5,000 for the relief effort.

 The year 1981 was the International Year of the Disabled Persons, and I was pleased that our district clubs responded with special programs which provided ramps and improved bathroom facilities for the disabled and handicapped. Many were hired by Rotarians in their businesses, another example of our caring and sharing.

 Under the able team leadership of Willingboro Rotarian Dick Isackson, we sent a fine Group Study Exchange Team to Japan for a seven-week visit. I was impressed with the way they expressed themselves at a homecoming sponsored by Willingboro.

 Our second year of R.Y.L.A. was a sell-out. In fact, it was oversold. This speaks well of our caring for our young people, our future community leaders.

 We also increased the number of Interact Clubs in District 764. This shows we worked in close harmony with high school students to help them develop into business and professional people.
The same is true of the increased number of exchange students we had during the year.

 Our District 764 Report brought news and accomplishments to all Rotarians. It was a fine way to communicate with our members and let everyone know about the good we're accomplishing worldwide. Many thanks to PDG Pete Fraleigh, who took the time to serve by publishing this newspaper.

 We had three club assemblies during the year. Attendance was great, participation greater, and the fellowship at all three was outstanding. This increased interest in acquiring Rotary information was most gratifying.

 Dan Paolini of the Riverside club is credited with another district first. He presented a beautiful plaque that was to be awarded annually to the club with the highest attendance record.
 We had many outstanding club presidents during my year. One of them, Neil Garber became district governor in 1985-86, and another, Mike Kittis is nominee for governor in 1990-91.

 A major highlight was our district conference at Mt. Airy Lodge in the Poconos. From the moment people entered the beautifully-decorated lobby and registration area, it was obvious they were going to have an enjoyable and profitable weekend. The reception was great because it set the scene. After that, everything fell into place. It didn't happen by chance, but because all members of my Woodbury club were well organized and worked long and hard to make the conference worthwhile.

 I'll be eternally indebted to all the men and women of my club for their support in making the conference a huge success. Special thanks to Jack and Edie Patterson and Nick and Peg Ballistreri, who co-chaired the event. Their leadership and the participation of our club members was summed up well by PDG Bill Nelson (our International President representative) when he wrote in his report to the president, "A strong impressive aspect of this conference was the excellent backing and support of the governor by members of his own Woodbury club."

 I'm very thankful for the help and support I got from our Past District Governors and especially grateful to Frank Quigley, our Past Rotary International Director. He was the first to extend a helpful hand. Suffice it to say that my experience was such that I chose to remain active at the club, district, zone and international levels when I left office.

 It's been 10 years since 1 became involved at the governor's level, and I still enjoy participating in my club's activities. In my opinion, Woodbury is a model club.

 I also still enjoy making up at other clubs to exchange ideas. I still like participating in district-wide programs on membership development and retention. I continue to enjoy devoting my time to furthering the cause of the Rotary Foundation. I also enjoy participating in our district assemblies and conferences and attending and contributing to Zone Institute programs. And Iris and I like to attend International Conventions.

 Yes, I love helping this great organization of ours that does so much for so many. So I "take time to serve." With the more than one million of us throughout the world, we can, and will, continue to make a substantial contribution towards much-needed peace and harmony with all people of the world.

 And we'll do it together.

--Herb Hecker, District Governor, 1980-81