Home

The Rotary Universe

Presidents Message

Meeting Information

Meeting Makeups

Officers & Directors

Club Members


Club History

District 764 History

District 7640 Revivified


Weekly Bulletin

2017-18 Bulletins


Woodbury Auto Show

Rotary Park


Five Avenues of Service


Rotary Foundation News


Youth Projects

Youth Protection

Seeds of Hope

Rotary Youth Exchange

R.Y.L.A.

Interact


Photo Album

Calendar

Meeting Programs


About Rotary

Becoming a Member

Useful Links


Contact Us

Site Map


For members...

Administration Login
2018 DICTIONARY PROJECT
Co-Chairs Jim Kelleher & Kerry Revelas
Jim Kelleher & Doc Holdcraft distributing dictionaries to third graders at the Walnut Street School
Tony Alveario and I visited two third grade classrooms at Evergreen Avenue School today, Mrs. Gray's class and Mrs. Golden's.
There is a another teacher in Mrs. Gray's class names Mrs Bove. She told the class and us that a Rotary Club where she grew up paid for her to attend Girls State and that changed her life.
Tony and I asked the kids to look up "polio".
We had them read the definition aloud and explained what it was. We explained that Rotary Clubs all around the world paid for medicine to stop people all around the world from ever getting polio again. We said that there is only one place left where polio has not been eliminated.
Back Pack For Kids 2015
The Woodbury Rotary Club had collected donations for the purchase of 60 Back Packs which were donated to the Elementary Schools in Woodbury. Each back pack is filled with essential school supplies in an effort to help the community. This year the club members dedicated their lunch meeting to stuffing the backpack adn getting them ready to be delivered to the school by President Lauren Donovan and Past President Wanda McIlvaine.
Back Pack For Kids 2014
The Woodbury Rotary Club had collected over $1,600 for the purchase of 60 Back Packs which were donated to the West End Elementary School in Woodbury and 10 back packs for the Seeds of Hope Ministry. Each back pack is filled with essential school supplies in an effort to help the community. This year President Elect Terri Parker organized and purchased all the supplies and with help from President Wanda McIlvaine and member Lauren Donovan and packed the bags and dropped off at the school.
| | | |
| --- | --- | --- |
| | | |
| | | |
| | | |

If you are interested in donating to Back Pack for Kids please see the link below.
Elaine MaGee
Christmas for Kids 2013
The Woodbury rotary clubs completed another year helping children from needy families purchase basic warm clothing, shoes, boots, gloves etc for the Winter months ahead. We reached our goal of $150.00 per child. Elaine MaGee from our club organized our shopping expedition to the Mantua K-Mart. This year was more challenging then previous years due to the snow storm that required extensive reorganizing. The shoppers were allotted $160.00 per child due to a 10% discount offered by K-Mart. We don't really have a handle on the value of our purchases because in addition to 10% discount and all items were offered under a special discount.
Woodbury Rotary Breakfast Club hosted our breakfast at Kemble Methodist Church for all the children and their parents. Of course Santa visited them and handed out a gift to each child.
If you are interested in donating to Christmas for Kids please see the link below.
Rotary Club Partners with FCCLA
FCCLA Kitchen Staff & Friends

Mr. Long and club members knee deep in

dinner prep

Prepping the chocolate/cream cheese brownies

Final cleaning, almost doneFinal cleaning, almost done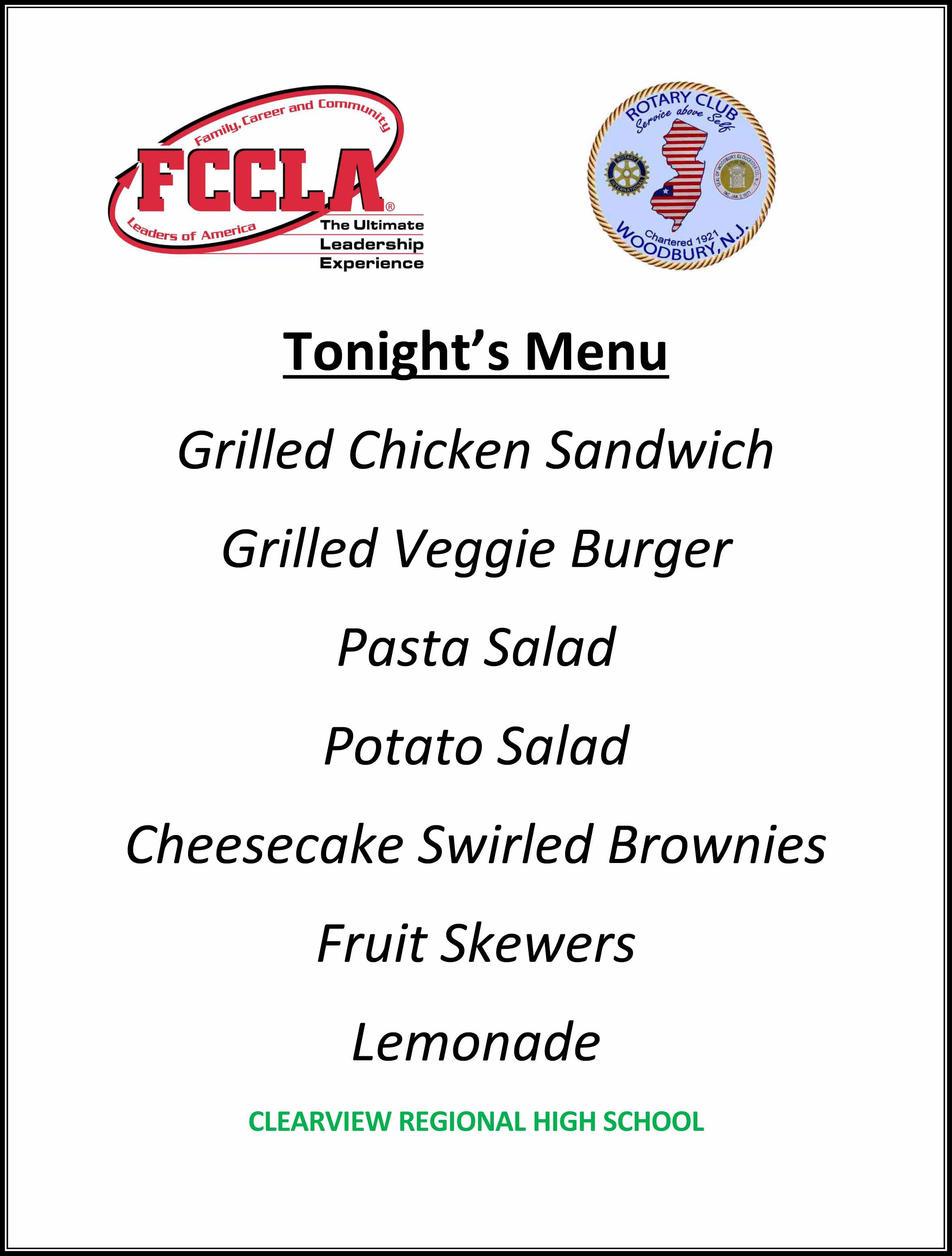 The Ronald McDonald House program provides a "home-away-from-home" for families so they can stay close by their hospitalized child at little or no cost. Ronald McDonald Houses are built on the simple idea that nothing else should matter when a family is focused on healing their child – not where they can afford to stay, where they will get their next meal or where they will lay their head at night to rest. The concept follows that when a child is hospitalized the love and support of family is as powerful as the strongest medicine prescribed. Home cooked meals provide comfort and nutrition to anxious parents leaving for or returning from a long day at the hospital
The FCCLA Club from Clearview regional HS has included the preparation of meals for the Ronald McDonald House as one of their community service projects. They received financial support from the Woodbury Rotary Club. Eight Student FCCLA members took the responsibility for planning the menu, shopping for the food and preparing it in the House kitchen. The total number of people eating meals this evening was 55, a full house. The Ronald McDonald House has a fully stocked kitchen with pots and pans, cooking utensils, serving bowls, plates, silverware, and cups. Dinner preparations began after 4pm and dinner was served starting at 5:30pm.
Christmas for Kids 4 Dec 2012
On December 4 the Woodbury Rotary Clubs, Breakfast and Lunch, and the Woodbury High School Interact
Club and their spouses/family members participated in this years's program assisting the children with the
purchase of clothing and shoes at K-Mart and with the breakfast at Kemble Methodist Church. This year,
thanks to your generosity, we were able to provide clothing and shoes, a Christmas breakfast and a gift
personally delivered by Santa Claus for 30 needy children ranging in age from 5 - 11 years.
Rotarian Elaine MaGee providing guidance to the Interact shoppers

Rotarians Jen Barbera, Ken & Wanda McIlvaine assisting children at K-Mart

Rotarian Greg Jones Provided transportation needed by the children

Christmas gift personally delivered by

Santa Claus
Rotary Youth Exchange is currently accepting applications of students who wish to study abroad during the 2013-14 school year Studying abroad can be a life transforming experience for many students. It builds leadership skills and gives students confidence that will help them through life's challenges. Similarly we are seeking host clubs and host families for our future inbound students.
Please click below for more information

Annie Plummer
Mary French
How it all began
The idea for the Dictionary Project began in 1992 when Annie Plummer of Savannah, Georgia gave 50 dictionaries to children who attended a school close to her home. She didn't stop there. In her lifetime she raised the money to buy 17,000 dictionaries for children in Savannah.
Mary French, a Rotarian and former school secretary, admired Annie's work and took up the crusade in Charleston, South Carolina. Under Mary's leadership, Annie's idea has developed into The Dictionary Project, a nonprofit organization. Since Annie's death in 1999, over 1.25 million children have received dictionaries because thousands of people saw the same need in communities all over the United States
If you are interested in donating to Woodbury Rotary Lunch Club to help support these great programs please see below.